Cryolipolysis:
a new, non-invasive way to gently and effectively reduce fat in targeted areas of the body that results in a noticeable, advanced-looking fat reduction in the treated areas. As triglyceride in fats will be converted into solid in particular low temperatures, it uses cooling technology to selectively target fat bulgesand eliminate fat cells through a gradual process that does not harm the surrounding tissues,reduce unwanted fat, The contact cooling of the hand piece surface regulates the temperature of the skin and protects fine dermal structures, realizing the fast body-reshape effects while tightening skin!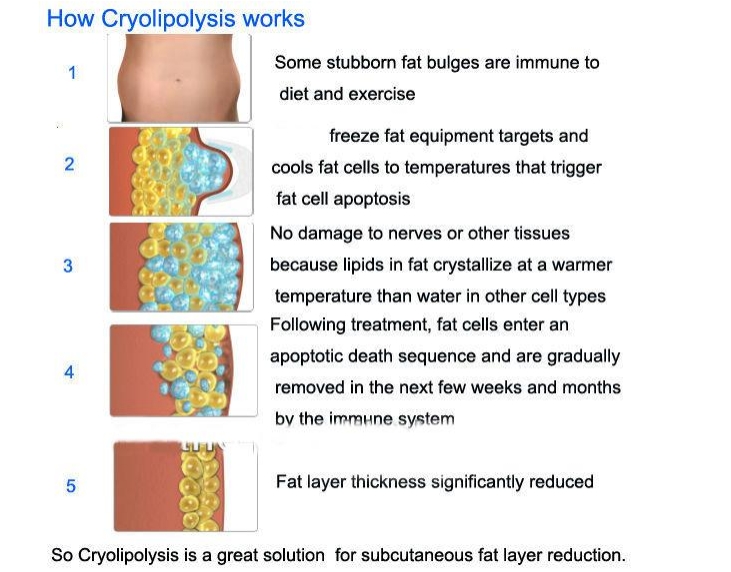 Cryolipolysis handle:
360°all-dimension surrounding cooling applicators
The treating area is all-dimension cryolipolise Approach 100% frozen in full area
A FREEZE CONTOUR PLUS treatment corresponds approximately 3
treatments with typical fat freezing devices
Only 35 to 45 mins time each treatment needed instead of 60 mins . Save about half treatment time to treat more customers .
Handle size of cooling area as below :
Big cryo handle size : 160 * 58 * 35 mm ( L * W * D )
Medium cryo handle size : 110 * 49 * 35 mm (L * W * D )
Small cryo handle size : 75 * 35 * 18 mm (L * W * D )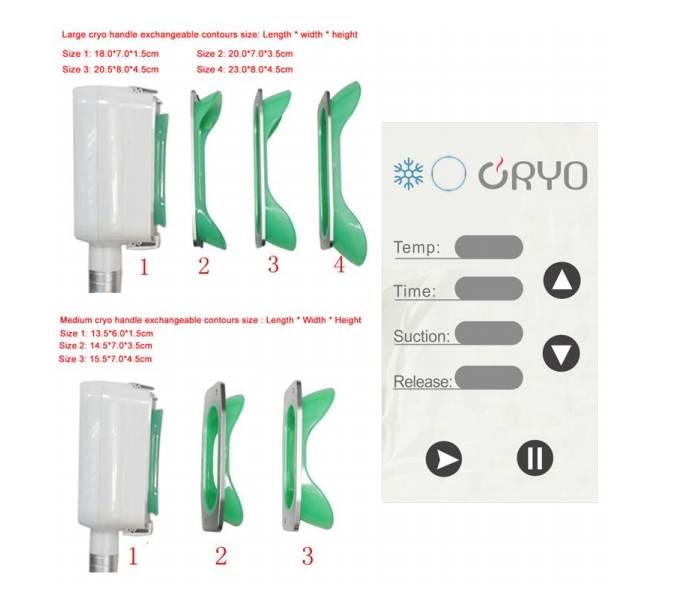 40K cavitation handle:
Strong sound wave explosion fat head with collective strong sound wave head,strong sound wave of 40KHz may be emitted to human body for impacting fat cells fiercely and causing friction motion between fat cells.This may cause effective consumption of calories and moisture in fat cells and reduce the size of fat cells.what's more ,sound wave vibration may cause fierce impact of fat cells to make them be exploded instantaneously,reduce the amount of fat
cells and thereby achieve the effects of removing fat.
Body RF handle:
Radio frequency is one kind of high frequency electromagnetic wave, it can penetrate the dermis and subcutaneous tissue through the fat layer, take heat into deep skin and then accelerate regeneration and reconstruction of skin deep-tissue. RF can produce energy by impedance from the skin, which can make the fatty layer temperature increase in very short time, and this heat will also act on collagen in the dermis layer. Collagen in the dermis layer will shrink immediately after the temperature rise and proliferation of new collagen, so as to achieve the effect of skin pulling, pigmentation improvement, skin whitening, and wrinkle removal.
Facial RF handle :
A capacitive coupling electrode is used for transmitting radio-wave energy and generating an electric field for entering into subcutaneous tissue through the skin surface. In the high-frequency of 450 kHz, this electric field changes its polarity for 450,000 times per second. To reply to the rapid change in electrode, directions of electrical particles the skin are also changed. By this time, natural electric resistance in the subcutaneous tissue moves and generates heat energy. As the papillary dermis collagen may immediately shrink when the temperature is within the range from 60 to 70 Celsius degree, after wrinkle treatment, client may immediately sense the skin tightening effects as it is being lifted and firmed. When collagen is produced continuously, thickness and density of the skin papillary dermis may be increased to remove wrinkles, eliminate scars, restore skin elasticity and gloss and make it be blonde and smooth. While
collagen is increased, fresh skin is generated in the position of operation and wrinkles are removed by large amount of cells. In addition, when cortex without elasticity or that with thick horny layer in the area with wrinkles is separated, surrounding skin will also be renewed.
Laser Lipolysis
Laser Lipolysis is growing in popularity as a procedure for the tummy, arms, male breasts, hips and outer thighs as well as smaller areas of the body such as redefining the jaw line, neck and chin area. It carries fewer risks as traditional liposuction and is a less invasive surgical procedure requiring fewer incisions and resulting in less scarring. We use laser liposuction after liquid liposuction to tighten the skin.