Instrument Principle
With its unique high-energy focused ultrasound, ultrasonic focusing can directly reach the SMAS layer, promote the suspension of SMAS fascia,and comprehensively solve the sagging and relaxation problems of the face. It precisely locates the ultrasonic energy at the 4.5mm fascia layer under the skin,which play a role in the fascia layer to growth and pull the muscle to achieve the best effects of shaping body and tightening skin .It acts on the collagen layer of 3mm under the skin to rejuvenate the collagen and achieve anti-aging problems such as skin elasticity, whitening, wrinkle removal and pore reduction,at the same time, because the energy swept across the epidermis, do not need to be worry about epidermis to get hurt completely and can make the skin arrives the effect that pulls quickly, compact outline, fast smooth furrow!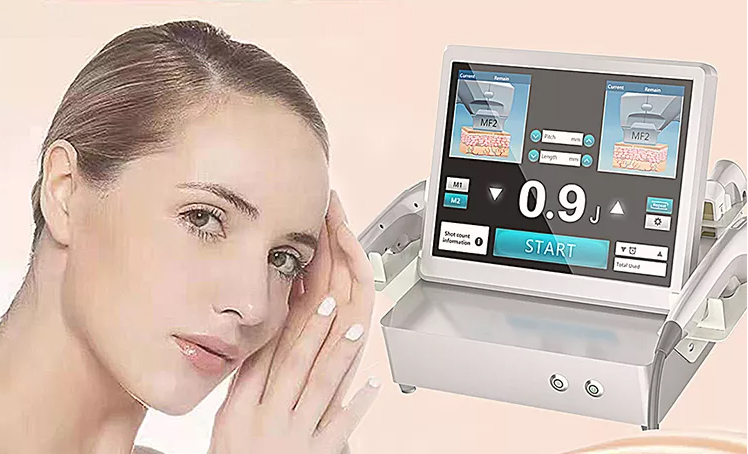 Technological advantages
1. MAX treatment area for one shooting (face & neck): length 25mm * width 1mm-10mm * depth 3.0mm & 4.5mm; MAX treatment area for one shooting(body):length 25mm * width 1mm-20mm * depth 8.0mm&13mm.User can adjust parameter as your demands. The width of one shooting is bigger than others, so it will not only shorten much time to operate HIFU machine on one face or neck or body,but also make energy points of the skin be more uniform and better curative effect.

2. It adopts the most advanced high technology, accurately working on various skin depths according to the facial skin condition equipped with three treating heads. The power lightly crosses the skin at the treatment, and there is no injury absolutely. Meanwhile, the depth of treating head works on the skin conforms to the setting value, ensuring the customer to be non-pain and comfortable.
3 .It has heat effect on dermal collagen and collagenous fibers as well as thermal stimulus on fat layer and SMAS, whose treatment effect is more than the Thermage.
4 .It is easy and convenient for operation, and no consumable items are required, which greatly saves the treatment cost.
5. Tightening and shaping effect is obvious after treatment. It can be maintained at least 18 to 24 months after one treatment and realize negative growth of skin age once a year.