Iriology is a science based on morphology that analyzes and infers the health status of the human body through changes in the eyes, as well as the process of observing and recovering.
Iriology belongs to holographic reflexology, which can reveal information about body function, witness the entire life process of the human body, indicate the degree of decline in body function, the deposition of toxins, and various unhealthy phenomena caused by mental or other factors
The application of iris detection technology in the field of health belongs to the fields of prevention and protection. Although iris detection technology cannot determine the name of a disease, through the reflection of image information on the iris, targeted analysis, evaluation, and intervention of body function can be carried out. Facilitate early detection of potential threats to physical health and eliminate diseases in their germinating state. In order to achieve the goal of early detection, prevention, and treatment.
Iris detection technology features a simple, non-invasive and non-invasive health detection method. It is a window for people to observe their own physical health, a barometer of body function, and a health warning device for self care and disease prevention.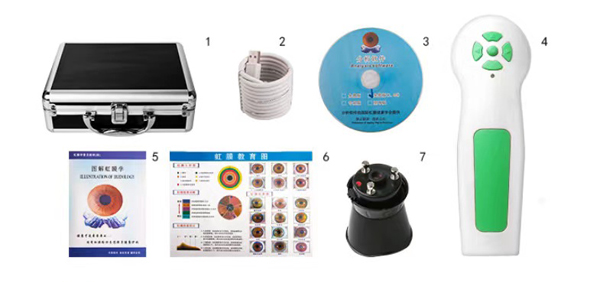 Our software languages: Portuguese, Bulgarian, Czech, Persian, English, Polish, Germany,  French, Italian, Malay, Japanese, Korean.
* Nice appearance and innovative design
* LED illuminator around lens
* Imported lens with plated layer
* 12.0 Mega pixels high resolution Korea sensor
* Special DSP image processor, Optical Image Stabilizer
* Left/Right lamp control Function.
* Single capture button and digital pause capture.
* Adjustable focus to give clear image.
* Auto white balance and contrast adjustment, Color Temperature Filter
* Dual image compare function
* 3D-Negative capture mode
* Compatible with iris lens, hair lens and skin lens.
* Deliver clear and accurate images.
* Easy to operate.
* Maximum resolution: 2560×1920
* OS: Windows  7/8/10/11