What is the gold radio frequency microcrystal?
The gold radio frequency microcrystal is the ingenious combination of micro crystal and radio frequency. The two word of "gold" originates from the microcrystalline gold coating and the coating is also golden yellow. At the time of treatment, the doctor according to the crystal position on Problems and treatment, adjust the depth of penetration and microcrystalline radiofrequency energy, then in the electronic control system, at the same time, dozens of insulating ceramics penetrate the skin quickly, from the micro crystal tip radiofrequency energy, then quickly exit, so the cycle until the treatment is finished, finally apply cosmetic ingredients.
Action mechanism
1, micro crystal mechanical stimulation, coupled with the biological effects of radio frequency and thermal stimulation, together to stimulate the skin's self repair system, to promote metabolism, improve microcirculation, the initiation of collagen and other new and rearrangement;
2, microcrystalline penetration, open the skin quickly absorption channel, easy to cosmetic ingredients into the skin;
3, the radio frequency energy emitted by the micro crystal tip can selectively destroy the hair follicles, sebaceous glands and sweat glands, inhibit inflammatory reaction and activate the anti-inflammatory and repair system.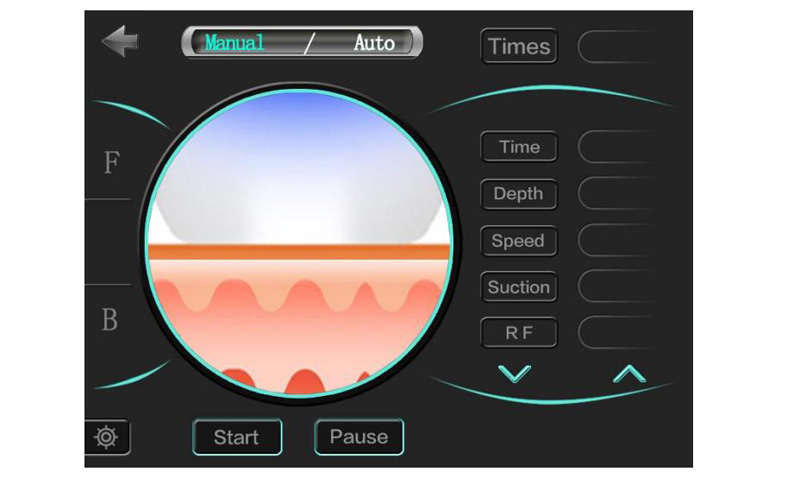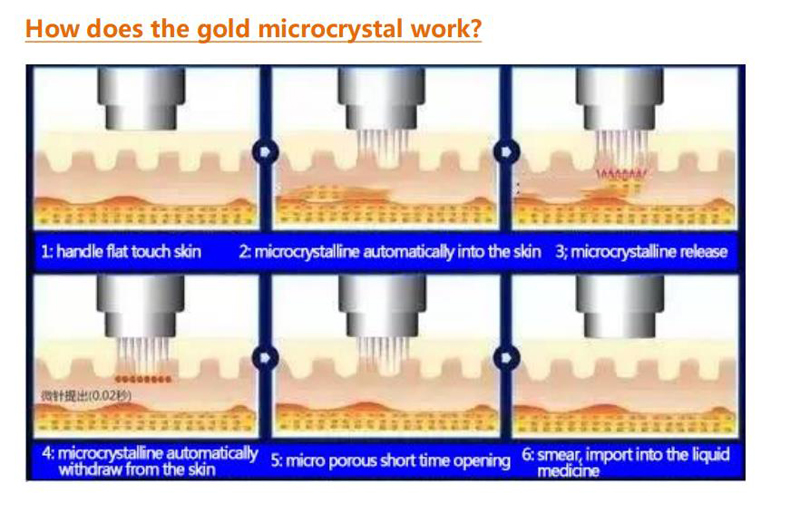 Why is gold microcrystal so popular?
Reason one:
New treatments double effect
RF technology, firming microdermabrasion technology, break through the traditional single treatment, the dermis directly emit RF energy at the same time, according to the different degree of adjustment of microcrystalline penetration depth and the size of RF energy, double effect.
Reason two:
Not scab, colorless, sink, perfect effect
Gold microcrystalline using unique design of insulating microcrystalline, to avoid stimulating the epidermis, the crystal tip to the treatment depth, release energy, no thermal damage to epidermal tissue, postoperative will not appear scab, color and other adverse reactions, the effect is perfect.
Reason three:
The curative effect is remarkable and the effect is maintained for 3~6
years.
The precise role of different depth of target tissue, real-time monitoring and intelligent impedance, crystal of wrinkles, relaxation, acne, scars and other symptoms, personalized settings, make the skin rapid repair to the young and healthy state, the longer the better, a treatment lasts for 3-6 years.